Business Coaching Testimonial
for AIM to Succeed from Hobbs Granger Roitt.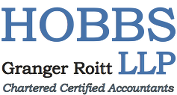 It has been a positive experience working with Steve as my business coach over the last 12 months. He has an easy going style but doesn't let you off the hook, (after all what's the point of having a coach if you aren't going to take it seriously). Steve clearly has a wide knowledge of the coaching field which allows us to speak about almost anything in business I care to raise.
As many will recognise, running a business at times entails keeping a number of plates going all at once. The decision, to take on Steve to assist me in keeping focussed on what was most important whilst dealing with those day to day issues, has proved invaluable. Talking through a variety of topics and long term projects with Steve has resulted in improvements in my business which ultimately means it has also benefitted my clients.
His approach to our sessions, whilst flexible, is structured which means I always get the chance to explore current issues but still deal with the meat of my business goals.
The reason I continue to use Steve from Aim to Succeed as my business coach is that my time is precious and I can only afford to work with people who will help me make a difference in my business and he helps me achieve that.
Graeme Hobbs.
Senior Partner
Hobbs Granger Roitt LLP